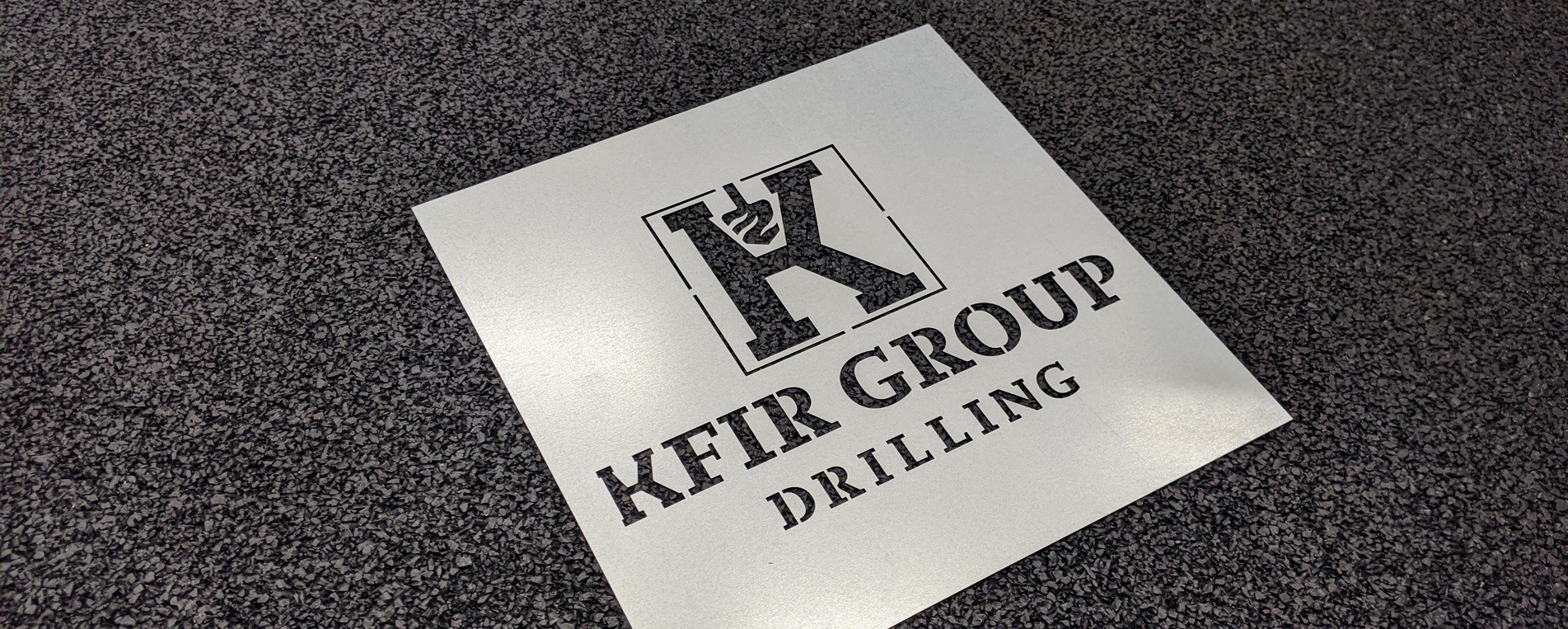 Stencil is a thin sheet of material from which certain parts have been removed, resulting in a sort of mask used to paint, paste or locate parts according to desired graphics in a simple, fast and relatively accurate manner. The results obtained by working with stencils seem to be done by machine rather than by free hand.
Common types and uses of stencils are:
Painting Stencils - the most common and familiar use. A sheet of thin material with cut outs in different places that make up the requested artwork. applying the stencil by attaching it to the surface of the material, spray the paint (or absorb it with sponge or brush) and then remove it and let the paint dry. The resulting graphic is similar to the graphic that was designed using the computer. Usually applied in one color but can also be painted in several colors. usually uses for drawing on walls and floors, decorating furniture, elements of interior design, decoration signs and more.
Glue spreading aid Stencils - applying adhesion of materials in a particular location, whether it is a

stencil

to apply adhesives to an exact location without tearing the adjacent areas or a

stencil

to conceal areas that undergo radiation or surface damage. In these cases, the

stencil

is used to enable quick and precise repetition of the process.
Placement aid Stencils - a stencil used for placing products or parts in a specific position for another use such as assembling, painting, engraving etc. The

stencil

can be disposable or from relatively inexpensive material such as cardboard and is used when there is no need for durability. Use cases for this kind of stencil are: product positioning

stencil

for UV printers,

stencil

for dyeing parts,

stencil

for parts

positioning

for a robotic arm,

stencil

to help place separate letters on signs, doors or walls.
Marking aid Stencils -

stencil

that exposes only certain areas and allows blind marking of a product or surface. Examples:

stencil

for filling out forms,

stencil

for checking tests,

stencil

for marking centers,

stencil

for marking pages and more. We can laser-cut s

tencils

in any font, size and language.
Cutting aid Stencils - Stencil guide for manual milling devices such as a trimmer or a drill. During the drill, the

Stencil

is attached to the raw material and enables the drilling to be carried out through the

Stencil

holes. It allows high accuracy in the placement of the holes and repetition at any time. With trimmer milling, you can keep attached to the edges of the stencil which leads the milling tool in the correct cutting path.
Laser cutting

of stencils

Laser cutting can be applied to a variety of materials suitable for the requested use, such as metal sheets, various plastic sheets, paper, cardboard or polyester, rubber and silicone. Each of the materials has characteristics that distinguish it and make it suitable for a different purpose.

Here are some of the applications:
Parking lot Stencils - stencils of large format used for painting of

driveways

. In

parking lots

the Importance of orientation is a real issue so large size of the signage is critical. Using laser cutting stencils one can mark the signs quickly and cheaply while maintaining a uniform design language. The use of different colors and graphics helps to locate the entrances and exits from the parking lot in a quick and easy way and makes it easy to locate the parking spot in multi level parking lots. Parking lot stencils are often made out of polypropylene and therefore can be reused many times.
Pavement and road Stencils - large stencils used for pavement signing and road painting on asphalt surfaces,

concrete

roads and pavements. P

olypropylene

Stencils are durable and easy to carry. They can be rinsed and are reusable.
Magnetic Stencils -

stencils

made of flexible magnetic sheet (similar to

refrigerators

magnets) allows it to stick

well

to metal parts in places where the paint is pointed upwards or where it is difficult to hold the

stencil

by hand. It can be very useful when painting a cylindrical metal objects such as truck container, heavy mechanical equipment, heavy machinery, street lighting poles, electricity poles or even on flat objects such as metal doors or metal electric cases. The sheets can be rinsed to wash off the remaining paint and be ready for the next use.
Metal

Stencils

- a reusable

stencil

. Allows cleaning and use throughout many jobs. Sometimes the

stencil

can be bent to reach a desired curve.
Disposable Stencils

- Stencils made of paper or cardboard. Relatively inexpensive stencils, which allow for single or few uses. Useful for painting unique variable information, serial numbers or as a tool for marking on a product.

Sticker

Stencil

s - Stencil made of a paper sticker or a plastic sticker, laser-cut precisely and allows adherence to the work area. By definition it is a one-time stencil that enables the implementation of many small details. The

Stencil should

be removed right after the paint is dry. Its relatively low price makes it attractive even when there is a need for multiple use - many laser-cut stickers might still cost lower than one reusable stencil. Another advantage of the sticker stencil is reducing the leak of the paint that can happen when the stencil is not carefully attached to the painted surface.
Mega size stencils - Laser cutting is very precise so it allows the assembly of multiple s

tencils into a larger

single s

tencil

(similar to a puzzle) and is frequently uses for: painting of large graphics,

painting

of parking lots, sport yards and playgrounds and more.
Concrete castings Molds - a 3D mold made of MDF or other structural material that can be attached to the surface (wall or floor) before casting the concrete. After drying, the mold can be disassembled and the desired shape will be stamped on the surface.
Silicone stencils - Flexible Stencils for amorphous surfaces or for casting. Especially useful in the area beauty and esthetics in which makeup is applied to a person's face.
You are welcome to consult with our team that will help you to select the most suitable material and to offer the best solution to your specific need. Cutting of stencils, cutting of letters or other forms of cutting is possible in a custom, fast and inexpensive laser cutting process. You are welcome to contact us.
For a quote - Press Here!
More relevant information

:

Article about materials and laser technology