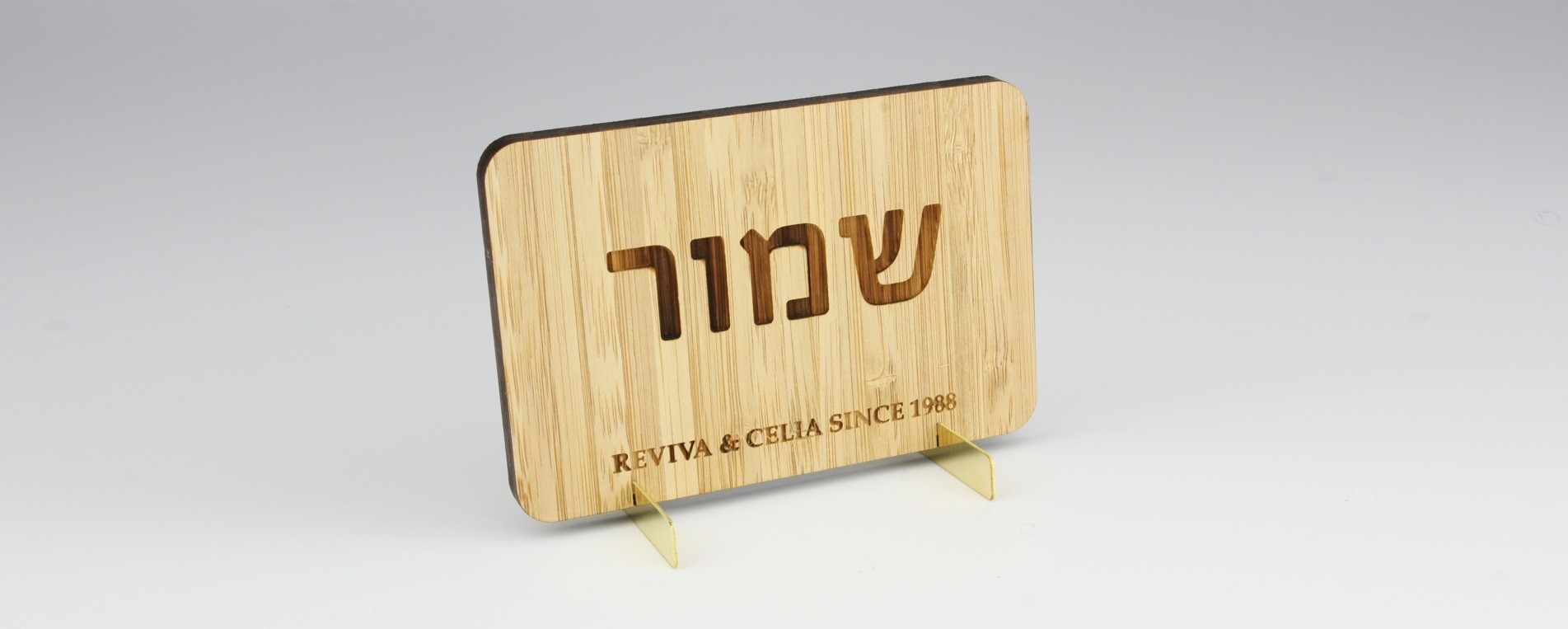 The laser technology is a great tool for engraving text on many materials. The engraving is being done by pointing the laser beam to the surface of the material and hatching it according to a drawing file. The marking is possible both on the surface level of the material and at deeper levels depending on the intensity of the beam, its speed and the number of times it passes over the engraved area.
When engraving text on products, we use a file that defines the wording, font size, and style by which the product will be engraved directly. We can engrave the outline of the letter (contour engraving) or etch the whole area of the letters. In general, contour marking is faster and therefore cheaper than a surface hatching. Text engraving allows us to mark the product, helping to identify parts, add information to products for branding or other purposes, embed the expiry time of consumable equipment, etc. You can mark any type of information in text in any font, size and language. You can combine serial numbering with barcode including any picture, logo of the company or of the product itself.
You can mark the same text across all units or a changing text (variable) across each unit. Common Uses for Variable Caption Engraving are:
Marking information on a product - Enables tracking the product in storage and supply chain, identifying the product from similar products - is necessary in cases where there are a large number of products with minor changes, in cases where the product is expensive and accidentally installing a wrong item will result in loss.
Marking a date on a product - Allows you to know when the part was created, when it was installed on the machine, or when it is expired. Allows to track and know how many parts per each date are in stock.
Marking products for attribution - Laser marking allows a unique mark (company logo, letters or dates) to be marked on parts so they can be distinguished from other similar parts by identification of the marked information wether by naked eyes or by

designated

optic equipment.
Branding products - Labeling products with laser marking for branding purposes is very common in events like exhibitions where you want to give away branded items that present your contact details. In such cases marking the product with Email address, website or phone helps the customer to contact you laster and to keep you in his mind for future purchases.
Engraving text on Wood - Marketing messages and themes can be engraved on wooden pieces and be given to the exhibition visitors. The original and sometimes even personal object can create a hugh impact that generate interest, ignite a conversation or even make a long time effect if the object is interesting enough and will be placed on the desk of the potential client. Text engraving on wood gives a sense of craftsmanship and can even encourage emotional responses like when using the right quote in the appropriate context.
People like to discover new things, so originality is the key when designing such a give away product. Make sure to invest the amount of time needed to come up with creative ideas and we will help you to execute and accomplish your goal.
For a quote - Press Here!
More relevant information

:

Article about materials and laser technology