Personal gifts - laser engraving on wood
What is Laser Engraving?
Laser engraving is a technological process that enables the marking of textual information, images or other graphics on a product in a permanent manner that is embedded in the material and can not be erased. The laser beam is directed by a machine that reads the computerized drawing file that was created in the graphic software on the computer.
Unlike print in which the graphic is added as an ink layer on the surface and covers it, the laser beam concentrates a great deal of energy on a specific point on the material and vaporizes part of it. As a result, the artwork is directly burned to the surface. In fact, an etch in material that appears to be part of the material is palpable, and it is generally possible to distinguish color differences between the areas that were scratched and those that were not engraved on the surface.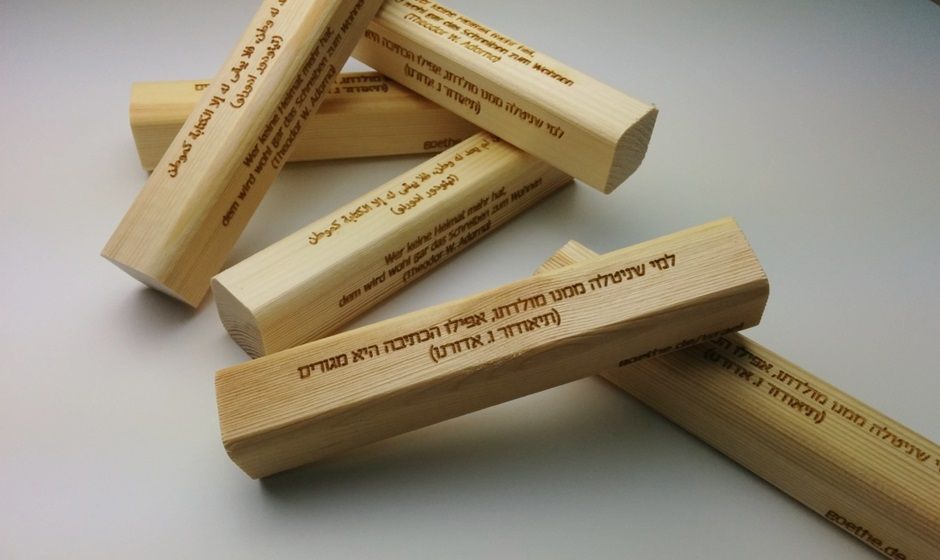 Laser engraving of quotes on pine bars
The differences between pattern and laser engraving are:
Color - while print can display a full color fan, laser engraving is obtained in most cases in one contrast dark color appears in the material as a result of the change in clarity between the color of the product and the area of the etch. In certain materials such as wood, you can change the laser power to get different burn levels and different shades of gray.
The size of the part - usually with printing you can print on both sides of a thin material, while the laser can be engraved on three-dimensional objects as well, such as wooden boxes for wine, wooden thinking games, wooden boxes designed,
Appearance - Laser engraving shows a more prestigious look on a product material in a harmonious manner and appears to be an integral part of the product. When engraving involves personal branding, a unique product is created and dedicated to the person receiving the gift.
Laser engraving is durable for many years, does not peeling and does not wear out over time.
Speed - While sometimes special machines are required for printing on products, laser engraving is a fast process, free of 'slabs' and / or other production tools, enabling execution on a wide range of products. Once the file is sent from the computer, the engraving is performed directly on the part and no additional treatments such as coating or lamination are required.
Variable information - with laser engraving on products You can engrave different information on each product in such a way that makes the product personal and unique. In gifts to customers or employees, each customer / employee may be given a gift with a personal dedication that includes his or her name, position in the company or company logo which makes it personal.
Examples of laser engraving on wood products:
Laser engraving on a bottle wine case - We can identify expensive wines according to the package in which they are sold and wooden cases are unique and prestigious. There are many wineries that use to brand the wooden boxes in the winery logo, painting bottle label or wine series and vintage year.
During the holiday season, many companies give their employees and customers wooden wine boxes engraved with a laser with a greeting and branding of the company.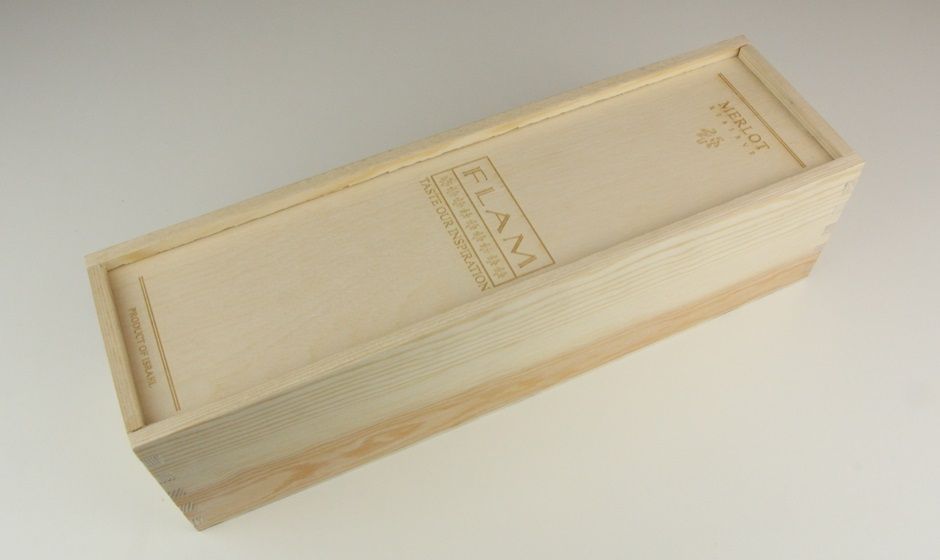 Laser engraving on a wooden wine case
Laser engraving on cutting boards - Another product suitable for the holiday as a gift is a solid wooden cutting board with a quote or a dedication in the spirit of the giving company. Since wood engraving is actually a surface which was etch by laser, no materials are added to the process and the wood is safe to use.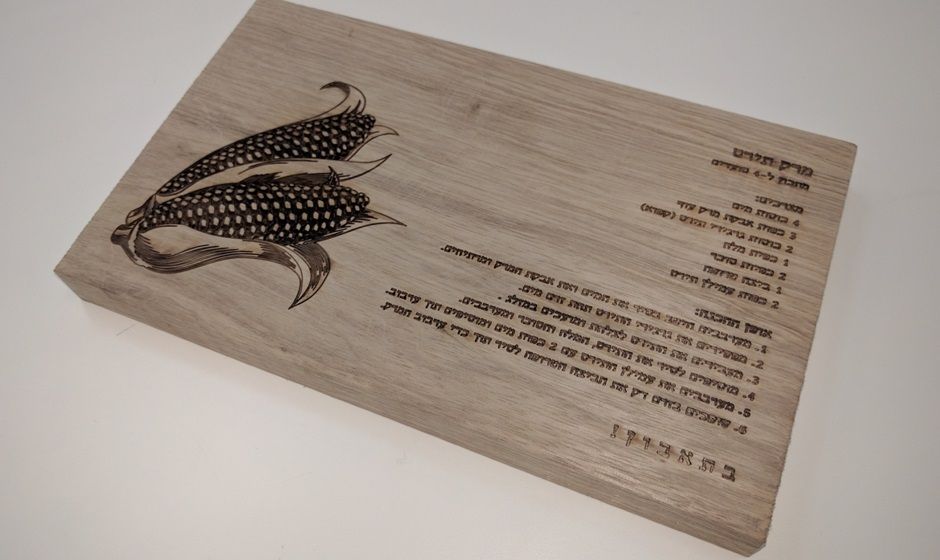 Laser engraving of a recipe on a solid wood cutting board
In many cases, special cutting boards are used to decorate the kitchen, including the engraving of a special recipe or sayings.
Laser engraving on wooden puzzle games - Wooden puzzle games that can be dismantled and assembled are always accepted with love. In this product, adding a laser engraving of the company's logo or a personal greeting on one side of the product creates a pleasant memory that is maintained throughout the life of the product.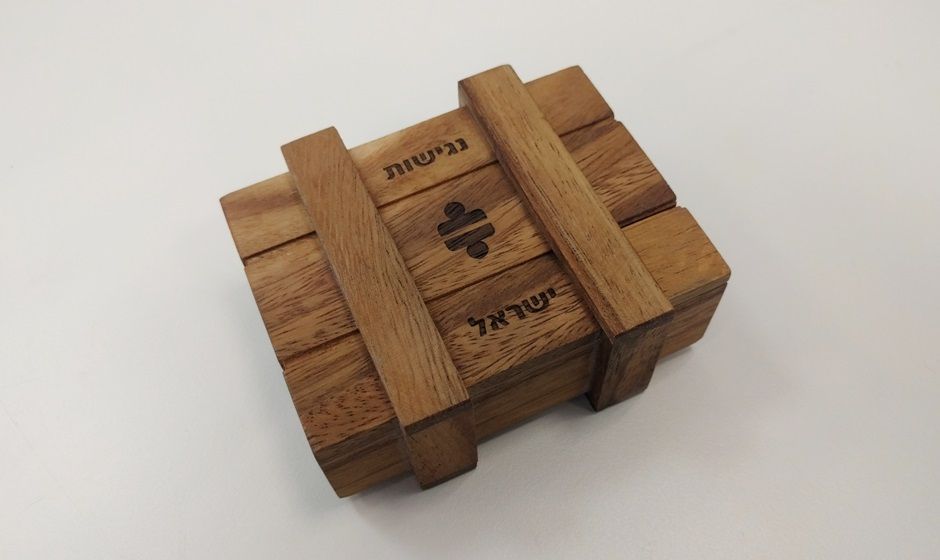 Laser engraving on wooden puzzle game
Laser engraving on souvenirs and recognition shields - perhaps the most well-known area is the souvenir and appreciation field. With the help of laser engraving, you can etch on wooden recognition shields, add a quote or greeting and even a picture or logo. Similar to engraving on wood shields, the laser can also engrave on acrylic shields and other materials.
Lasercut4 specializes in laser engraving on the highest level wood and providing cutting services in a variety of materials. The service is provided to a wide range of customers: companies and businesses, through the community of designers, service providers and private individuals.
We invite you to be impressed by our abilities and to use our knowledge in any questions you may have. You can contact us by phone or email and we will be happy to assist.