Wood is a natural raw material that exists in a large variety of types, thicknesses and patterns and is usable in many aspects of life both in the industry and in the private sector. As a material, the solid wood is hard, insulated, heat-resistant and durable and have good mechanical properties for a various uses.

Wood is characterized as a warm, pleasant to touch material, with a unique "wooden pattern image" and a wide spectrum of brown tones. It transmits prestige, and gives to wooden products added value in the form of quality, fine appearance and longevity. The ability to obtain various finishes such as paint, lacquer or impregnation with special oils emphasizes the natural appearance of the material. The price range is wide and starts with low value wood such as cheap laminated wood, poplar plywood, OSB (Oriented strand board) and MDF (Medium-density fiberboard) up to expensive, rare and exotic wood types such as Ebony, Ipe wood, Zebrano wood (Zebra-wood), Teak and various roots.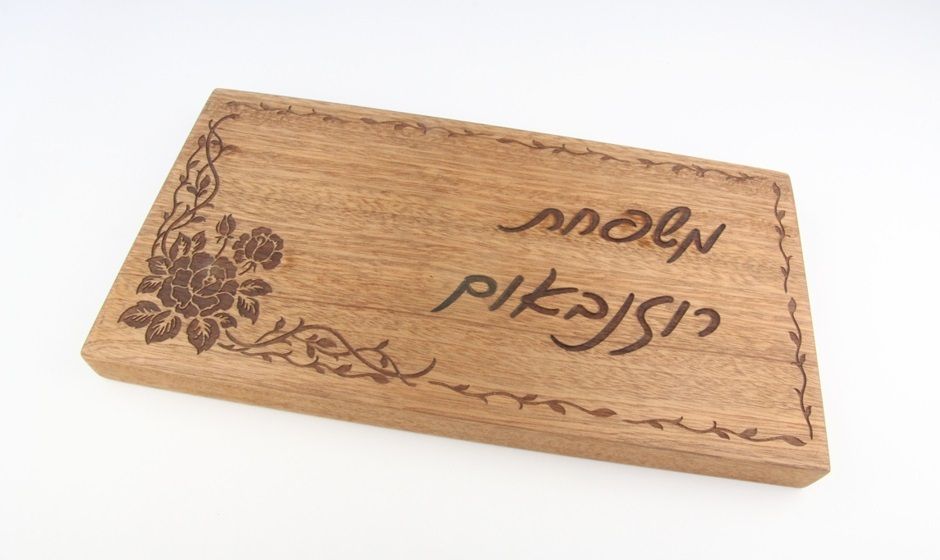 Entrance sign - decorative laser engraving of family name on a sapele wood
Wood as raw material in the industry:
Construction - Wooden cabins (mainly in cold areas), infrastructure for scaffolding and building materials, constructions for tiled roofs, entrance doors and interior doors, pergolas and more.
Interior design and architecture - wall cladding for a prestigious look and noise reduction, wall covers in sound studios for aquatic improvement, auditoriums, concert halls and opera to improve audio quality. Ceiling coverings combined with decorative lighting fixtures. Floor coverings - luxurious natural parquet floors.
Furniture - Household furniture such as cabinets, plywood kitchens coated with veneer or HPL (High Pressure Laminate) cover. Tables and chairs made of carved wood, wooden cabinets in the development of engraved elements, designed table legs, designed partitions and more.
Jewish art (Judaic) - Wooden ark cupboards with handmade carving, synagogue furniture including wood engravings. Custom-engraved 'mezuzah', other holy vessels including engraving and carving.
Outdoor urban furniture - urban wooden benches, municipal facilities covers, shades, garbage tray including logo engraved, bulletin boards, fences and railings in decorative gardens, large construction covers, rural look signs and more.
Art - Sculptures made of wood, artistic engraving with solid wood panels, decorative objects for indoor and outdoor use and for home decoration.
Other objects for general use - painted wooden toys, musical instruments made of exotic woods, serving and food tools, wooden storage boxes made of plywood, MDF or OSB.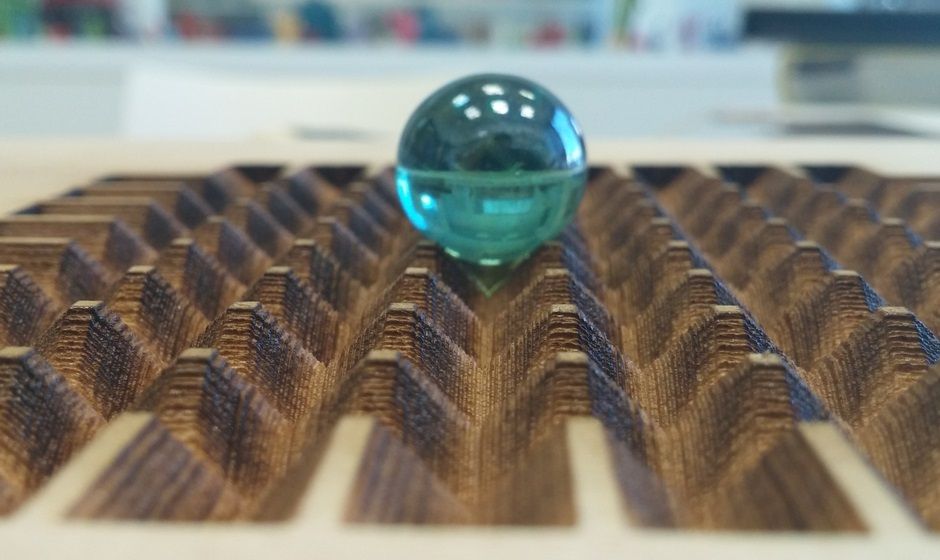 Deep Laser engraving creates three-dimensional structure in maple wood
Laser Engraving on wood
Laser engraving on woods is possible on all types of woods and gives a higher quality result over flat surfaces that are free from blemishes. The quality of the engraving is influenced by various characteristics of the wood, such as its density, the fiber structure with in the wood, percentage of moisture / dryness, the amount of natural oils available in the wood and more. These differences between the woods allows for impressive results with the laser engraving technology.
Main factors affecting the outcome
The clarity of the wood - is expressed in high contrast effect of the laser engraved part of the wood. it appears much more darker then the row wood and is therefore more distinct in light trees.
Wood hardness - soft wood engraved relatively easily, hard wood will require great laser power and longer processing time. Hard wood is preferable to multi-detail engraving and gives a distinct result and relative stability even in delicate areas.
Fibers Direction - the structure of the fibers in the wooden board depends on the location and position of the actual board cut from the original tree. Different areas in the wood and fiber directions are characterize with different hardness and as a result of in the quality of the engraving is changed.
The wood natural look - in more "painted" trees in which the structure of the fibers is very different is less noticeable engraving because it is liable to 'compete' in the general wooden picture.
Moisture level in the wood - Dry woods react differently from wet woods and the degree of freshness of the wood will affect the result obtained.
Natural oil in the wood - the amount of natural oil found in each wood varies in different types of woods and affects the appearance and quality of engraving.
In some cases, after the engraving, the wood can be applied with oil or varnishes in order to accentuate the etched surface, emphasize the natural texture of the wood, and even preserve the wood and give it a longer life span.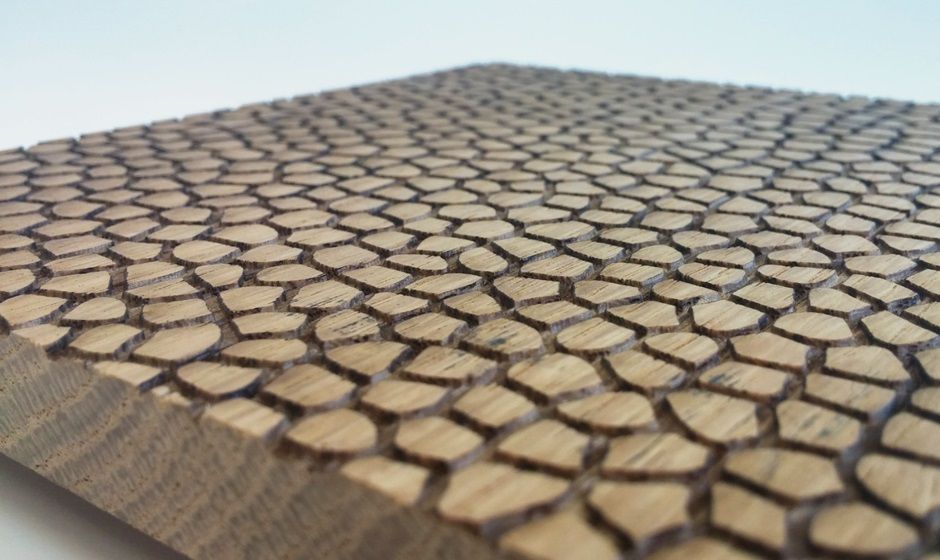 Laser engraving of designed graphics to create a three-dimensional texture on a wooden tile
You can Laser Engrave wood in several ways:
Line marking - allows the marking of lines on the surface of the wood - wherever the beam passes over the wood it burns the wood and leave thin line in the thickness of the laser beam (about 0.25 mm). Linear laser engraving allows you to write text on the wood by means of which you can label products by adding a caption or logo.
Surface engraving - rasterized graphics (vector or pixel graphic) can be engraved on the surface of the wood in a way that looks like an image. The engraving can be applied in several methods, the following are examples of each method:
Engraving on the surface - a delicate engraving with almost no depth that looks like a kind of brown print on the surface of the wood. Will usually be used for engraving pictures on wood, engraving delicate graphics.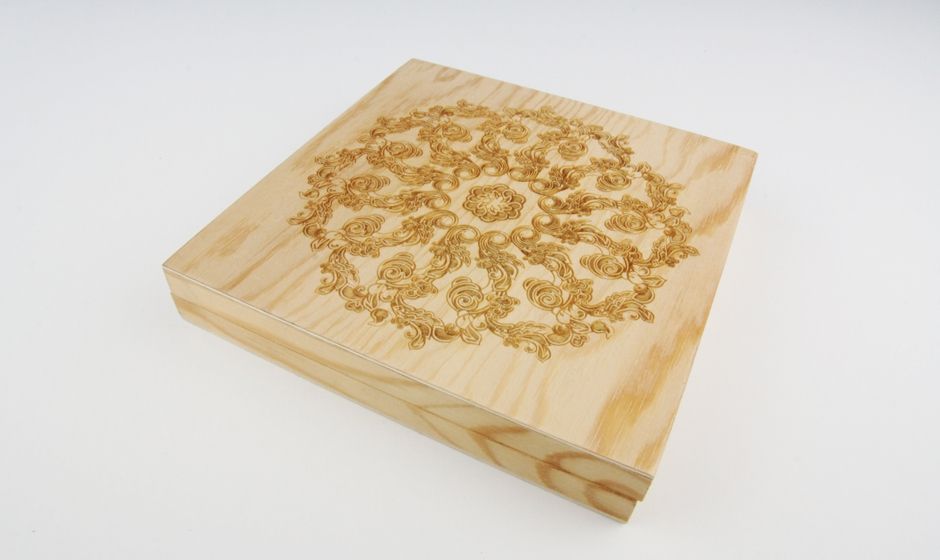 Surface engraving over a wooden case mage of poplar wood

Engraving at a uniform depth - Working on two planes - Engraving the background graphics in depth emphasize the important objects in the graphics and emphasize it aginst the background in a distinct way. Usually the engraved background will be darker than the wood surface due to the laser operation in this areas.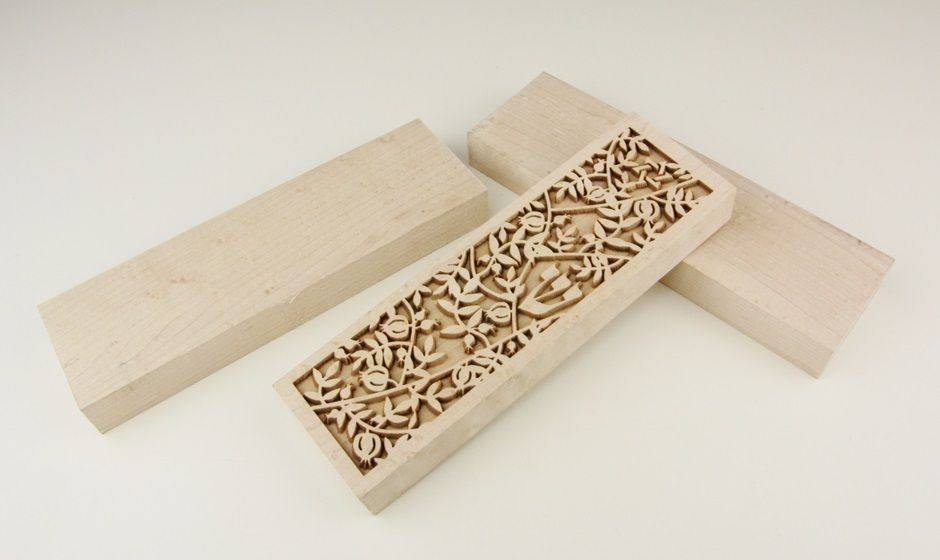 laser engraving in maple wood - a Jewish Mezuzah

Variable depth engraving - similar to a uniform depth engraving, wood can be engraved on several planes to create a distinct texture or pattern. The area to be engrave is defined in the graphic drawing file which defines each level with different characteristics (color or layer).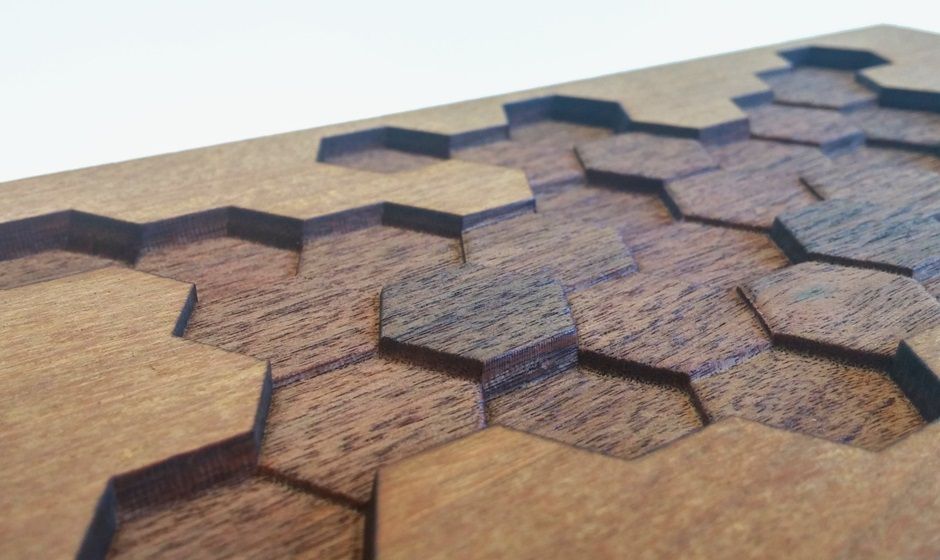 Wood paneling with laser engraving in variable depths
3D Engraving - Laser Carving - Similar to other wood engraving methodes, wood can be carved with a laser. Using a suitable graphic file, raw wood can be processed in a way that looks like a bas-relief. Choosing the right wood type allows you to highlight many details in a very high accuracy.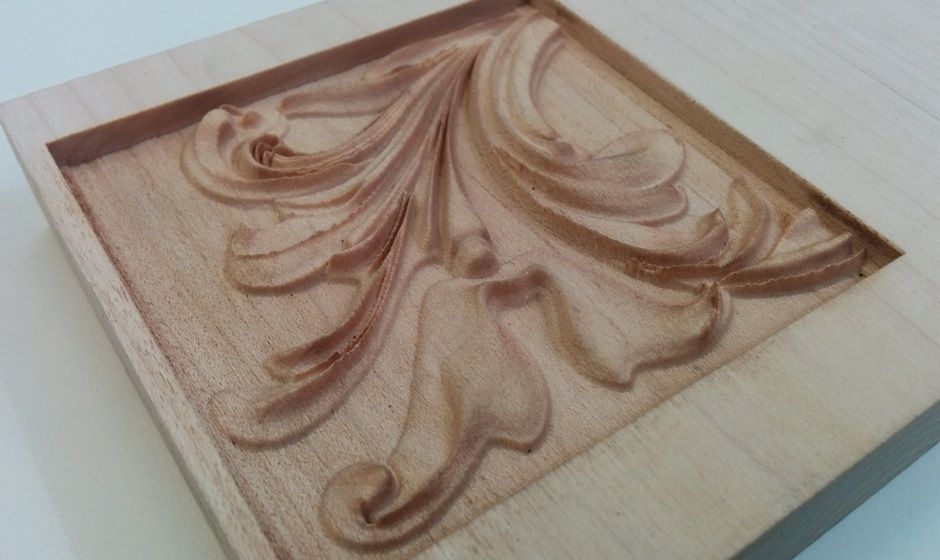 Carving of a three-dimensional decorative element in maple wood using laser technology
Preparation of the graphic file - The graphic files are usually vector files (PDF / DXF / AI) produced on the computer in a drawing software (such as Illustrator, Coral Drew, or AutoCAD). The drawing lines define the markings that we want to engrave on the wood or the area we want to engrave.
Other examples of laser engraving on wood:
Laser Carving of Judaic in an handmade look - the laser technology enables a rapid and precise carving of wood in a way that is similar to artistic handcrafting carving techniques with great details. Judaic items as a Mezuzahs and other Judaic wood artifacts are a large group of items which uses an artistic hand carving as part of their styling.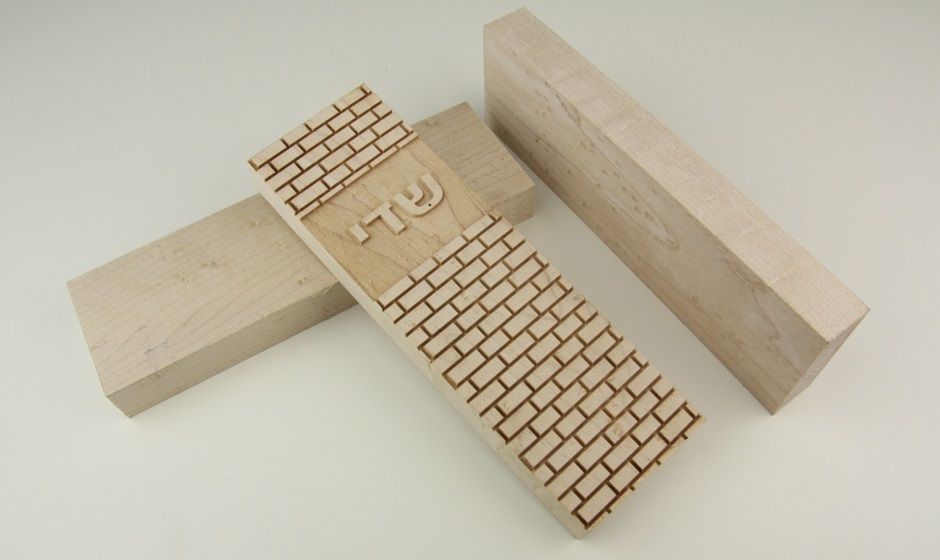 Maple wood Jewish Mezuzah carved with laser technology

Engraving a logo on a custom guitar - During the construction of the instrument the artist uses the laser technology to brand the instrument he built by laser engraving his name, signature or logo on the tool. In the same way, it is possible to inscribe variable information such as a date or identification number unique to the instrument which is used for cataloging and collecting purposes.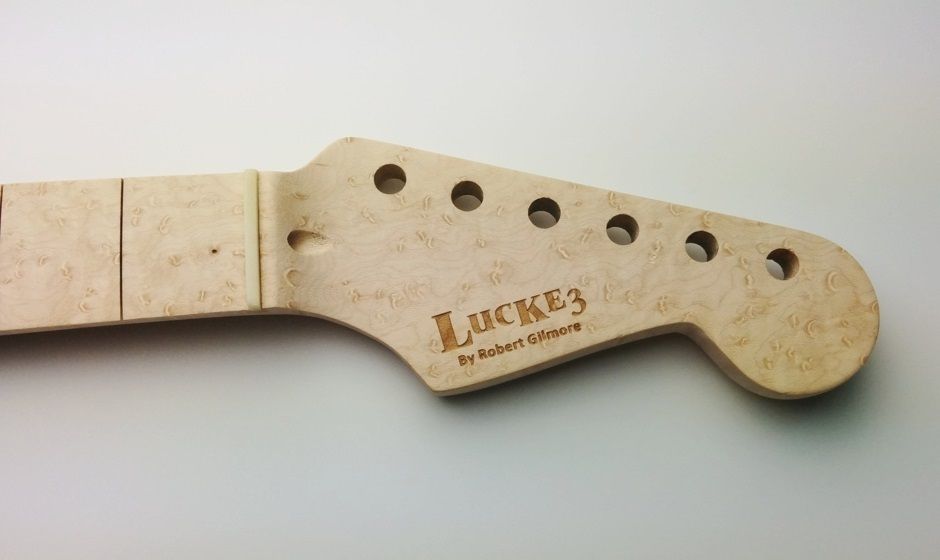 Personal branding logo made with laser engraving technology (design: Robert Gilmore)
Laser inscription - famous quotes in 3 languages engraved on pine wood pieces as a part of an exhibition. The engraved poles are placed in an acrylic stand which forms a wall structure from which the poles are taken by the audience at the exhibition.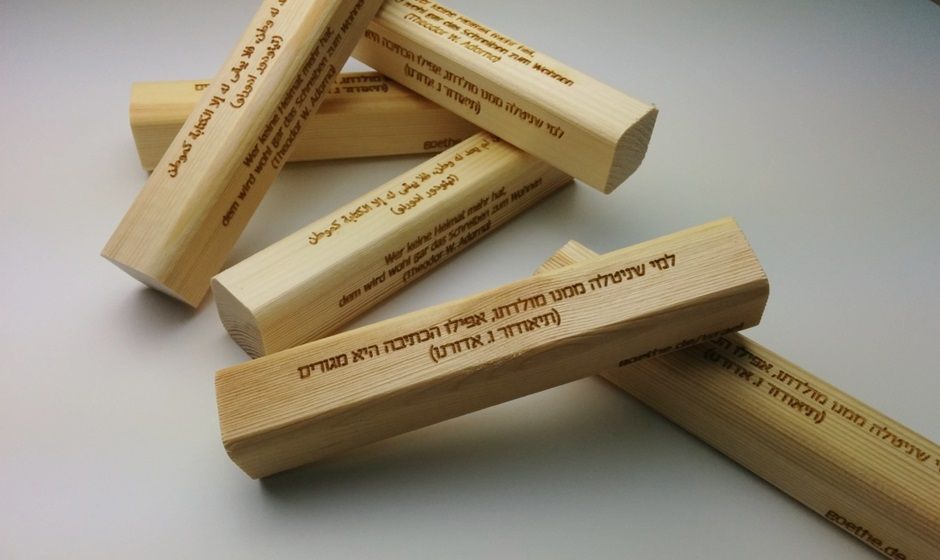 Laser engraving of famous quotes in several languages on a pine wood
Home entrance signs - With the help of the laser technology, inscriptions can be etched deep into different types of woods. In this way it is possible to produce wooden signs for interior and exterior uses on both solid woods slices and on planed and polished wood panels.

laser engraving of outdoor sign with on a Eucalyptus wood
Learning blocks - Laser engraving of letters in different languages on Beech wood blocks. uses as a language learning tool for young kids.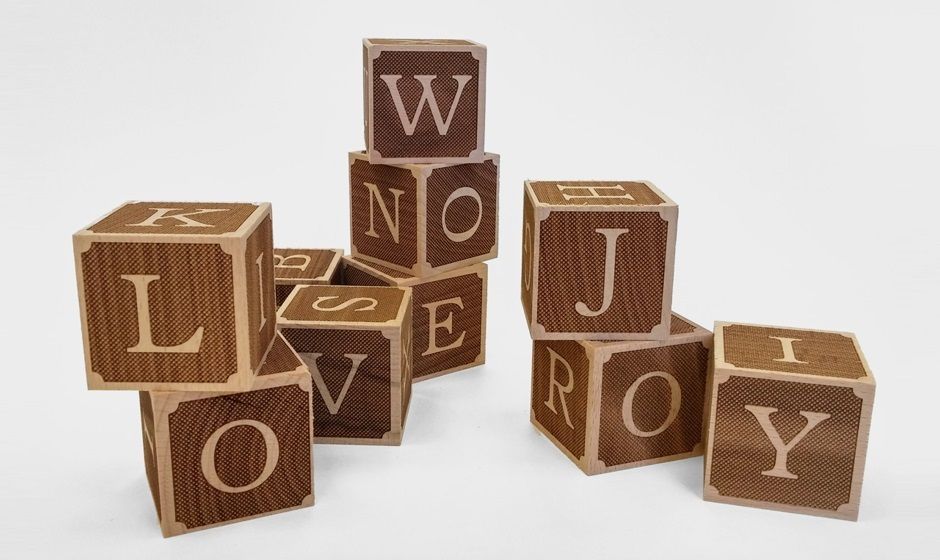 laser engraving of solid beech wood blocks